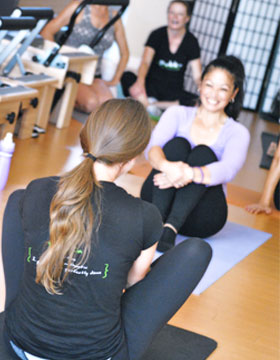 A Nationally Certified Pilates Teacher/physical therapist teaches Pilates wellness and fitness sessions, placing special emphasis on form and injury prevention. This creates a superior Pilates studio where you can have a safe, effective workout that will help you reach your goals.
Unique Programs
Healthy Back (Pilates Rehab)
Reformer – All levels
Mat Pilates – All levels
Pre-/Post-Natal Pilates
Pilates for Parkinson's (Pilates Rehab)
Pilates for Osteoporosis (Pilates Rehab)
Tower/Springboard– All Levels
Pilates Mixed Equipment/Circuit Training – All levels
Cardio Pilates
Workshops
Pilates for Golfers
Office Ergonomics
Healthy Back Yoga
Foam Rollers
CLASS SCHEDULE
A minimum of 1 person must be registered online for class to be held. Online registration must occur a minimum of 2 hours prior to class time.
---