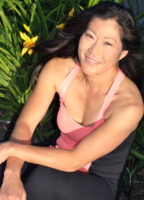 Sharon Manzuk
Pukka founder Sharon Manzuk is a licensed physical therapist, Nationally Certified Pilates Teacher, and Certified Ergonomic Evaluation Specialist. Sharon holds a master's in physical therapy from Mount St. Mary's University and a bachelor's in psychology from the University of California, San Diego. She gained an appreciation for Pilates after discovering it relieved her own chronic back pain and wanted to learn more and be able to provide the Pilates method to her patients and clients. She completed a 500-hour Classical Pilates Teacher Training program through Chakra Pilates in San Diego and continues training with world-renowned Pilates instructors Jay Grimes, Moses Urbano, Chris Robinson, Sandy Shimoda, and Kathy Ross-Nash. Sharon was selected into Chris' S6 Pilates Continuing Education Intensive Training Program to take both her personal practice and teaching to another level of comprehension and appreciation, just as Joseph Pilates intended. Sharon has been working in the healthcare industry for more than 25 years and brings her expertise in rehabilitation, ergonomics and injury prevention, and passion for Pilates and fitness to provide clients with the optimal exercise experience and successful outcomes for a long and healthy life. Sharon has been a Scripps Ranch resident since 2004.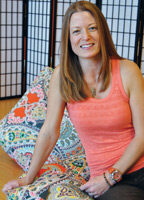 Jessica Pickett
Jessica Pickett first discovered Pilates while trying to rehabilitate a low back injury in 2009. After trying all the usual forms of rehab, it was Pilates that helped to relieve her back pain by focusing on strengthening the muscles that support the spine and working from the "inside out". Energized with a continued passion to help people, Jessica immersed herself in Pilates and completed her Teacher Training Program through Pukka Pilates & Physical Therapy in San Diego. She is thrilled to be able to use her physical therapy experience and Pilates training to provide clients with a balanced, whole body workout that connects the mind, body and spirit through movement. Jessica is a licensed physical therapy assistant, Nationally Certified Pilates Teacher, and Certified Ergonomic Assessment Specialist. She completed her bachelor's degree in kinesiology from Sonoma State University and has experience working with patients in the hospital setting, ergonomics and injury prevention.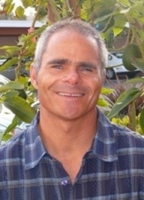 Federico De Silva
Federico De Silva is a 2nd generation classical Pilates teacher whose Pilates journey began in 1998 with the Romana's Pilates Authentic Pilates Method. Since 1989, Federico has dedicated his life to the pursuit of excellence in high performance corrective exercise kinesiology after his initial training under Paul Chek. He is also certified in and uses the Functional Movement Screening Program (FMS.com). Federico's worked with a wide spectrum of clients including elite athletes, post-rehab patients, children, and the elderly, and instructs using quality weight training techniques while correcting faulty movement patterns to improve muscular imbalances and postural alignment. He uses Pilates to help clients and athletes meet their fitness and rehabilitative goals. Federico received a BS in Aquatic Biology from UC Santa Barbara and holds many certifications including yoga teacher, professional golf fitness instructor, strength and conditioning specialist (CSCS), and post-rehab specialist. Ocean waterman fitness and surfing instruction are among his many passions. He also consults with the Olympic ski program in Breckenridge Colorado.
Anna Jimenez
Anna was working as an advertising practitioner at an ad agency in the Philippines when she discovered Pilates around 2000. She believed Pilates was the most beneficial and enjoyable exercise for her. She believed in it so much that in 2007 Anna left the ad agency where she had been for 18 1/2 years and enrolled in the Romana's Pilates Instructor Training Program in the studio owned by Romana Kryzanowska in Arlington, Texas. After earning her certificate as a Level V Romana's Pilates instructor in early 2008, she went back to the Philippines and taught at PurePilates. For 7 1/2 years, she gained more expertise teaching private sessions as well as small group reformer and mat classes. She also obtained her certification to teach TRX suspension training. Anna moved to San Diego late 2015 and started working at Pukka Pilates & Physical Therapy in 2016.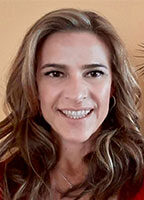 Joy Napolitano
Joy has been practicing Pilates for over 25 years and an instructor for 7 years. As a dancer and Dance Major in College, Joy was introduced to Pilates as a must for dancers to recover from injury. After having her two children, Joy used Pilates to get her abdominal and core muscles back in shape. After getting such great results she wanted to share this with other people. She decided that she wanted to be a Pilates instructor. However, life got in the way and other commitments took over. She continued to practice Pilates as she was busy raising her two kids as a full-time mother. She finally found the time and commitment to go through the teacher training program. While going through her training she really now understands why her body feels so good while practicing Pilates. Joy was always in back pain her whole life. Now she is pain free because of Pilates. She is so excited to share her knowledge with the clients at Pukka Pilates & Physical Therapy. Not very many people can say that they work every day at something they are truly passionate about. Joy completed the Pukka Pilates & Physical Therapy Classical Bridge Program and is a Nationally Certified Pilates Instructor (NCPT). She is also a certified Barre Above instructor, Jazzercise Instructor, TRX instructor, FMT Movement Specialist and Club Pilates Master Trainer.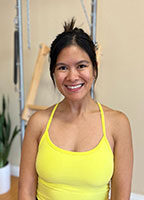 Mariana Mandanas
Mariana became a Pilates instructor to pursue a better understanding of her own body and movement. Her love for Pilates started in 2009 after she took her first mat class at New York University while she was studying Art History. Immediately after class, she felt taller and energized and was left wanting more. Seeking out instructors wherever she lived, she continued to take private lessons until she completed a 500-hour comprehensive training program. Coming from a lifetime of playing sports and being outdoors she has always embraced a good sweat, but with Pilates she finally experienced complete coordination of body, mind, and spirit. Mariana continued her Pilates journey and completed the Pukka Pilates & Physical Therapy Classical Bridge Program and continues to take workshops and private lessons with instructors including Kathi Ross-Nash, Sandy Shimoda, Carrie Shanafelt, Nicole Alvarez, Lori Coleman-Brown, Blossom Leilani Crawford, and other instructors in the San Diego area. Mariana loves learning and considers herself a lifelong student. She is inspired by all the teachers she has worked with, and describes her teaching style as a mix of all the fun and challenging things she's learned from them. As an instructor, she loves sharing techniques with clients to help them create space and understand how they use their bodies in a simple but significant way.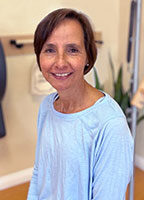 Lucy Maria Fox
Lucy Maria Fox loves to help people feel their best through movement (Contrology) and to help clients recognize the movements of their body and discover how capable they truly are. She completed her initial teacher training at Beyond Pilates in 2015 and continued her education attending workshops with Lori Coleman-Brown and Inelia Garcia. She realized that she wanted to deepen her understanding of Pilates and completed the Classical Bridge Program at Pukka Pilates & Physical Therapy in San Diego. Maria has run 4 half marathons, 1 international triathlon & 3 open water 10-mile relay swims. She is happily married and has 4 children. She loves to cook and try different cuisine.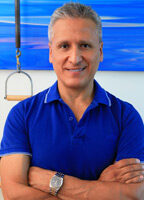 Moses Urbano
Moses is a world-renowned Pilates Instructor who works with private clients, other Pilates teachers, celebrities and professional athletes since completing his certification in 1999 under the direction of Romana Kryzanowska at The Pilates Studio of New York. He had the great privilege of assisting Romana, Joseph Pilates' leading disciple, on teaching tours in the United States and internationally. His passion is to share his journey in Pilates and support Pilates instructors around the world.
Known for his dynamic hands-on approach to teaching Pilates, he is sought-after for Pilates training events and workshops. His base is San Diego, California in the USA and Berlin, Germany in Europe. Moses keeps his own practice on the cutting edge by remaining forever a student, studying with his fellow teachers and instructor trainers at Romana's Pilates.
In addition, Moses has been featured in San Diego Magazine, Majestic Living, IDEA Fitness Journal, PilatesStyle, and various international publications. He consulted for Stamina Products at "Super Shows" and live on QVC, and he taught for GAIAM Pilates. His live teaching is available on Pilatesology and he is a star performer in "Romana on Pilates-The Legacy Edition."
"Romana taught me 'Contrology' – that's what Joseph Pilates called his work. I see it as an art form of movement and believe it is the best way to naturally cleanse the body of impurities and replenish it with vibrant energy. It also happens to be a great way to exercise." Moses Urbano
Contact Moses to schedule an appointment