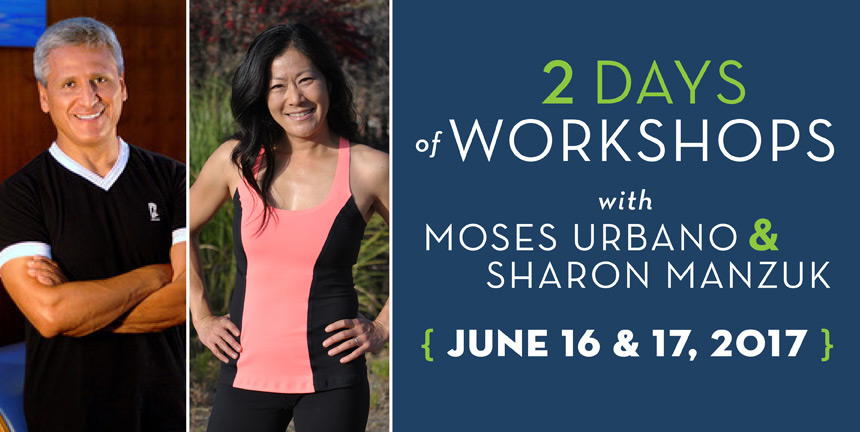 TEACHER TRAINING WORKSHOPS
June 16th & 17th Pukka Pilates & Physical Therapy will be hosting world-renowned Pilates Instructor Moses Urbano & Physical Therapist Sharon Manzuk for an in-depth look at postural analysis, feet and Pilates exercise prescription. Learn from the perspectives of BOTH a Master Pilates teacher and Physical Therapist, and leave with assessment tools and Pilates exercise ideas for your clients. All levels and certifications welcome!
FEET, THE FOOTWORK & FOOT CORRECTION
Friday, June 16th 3pm – 6pm
(Social hour at 6pm – eat, drink & socialize!)
Do your clients have pronated feet, bunions or plantar fasciitis? Learn how to evaluate the feet of your clients and assess their Footwork to provide the most effective foot correction. This 3-hour workshop will cover the foot corrector, toe corrector, alignment and Pilates exercise options for the foot and ankle.
POSTURAL ANALYSIS & PILATES EXERCISE PRESCRIPTION
Saturday, June 17th 11am – 2pm
Hone your visual and tactile skills and learn how to improve the posture of your clients. During this 3-hour workshop, you will assess 4 types of postural alignments, discover asymmetries in the body, and learn to create a Pilates exercise prescription most beneficial for your clients.
One day: $175
Two days: $300 ($50 savings!)

PRIVATE SESSIONS WITH MOSES
Friday: 11am, 12pm, 1pm
Saturday: 9:30am, 2pm
Cost: $150
*contact 858.271.8800 to schedule
Are you interested in starting a new career as a Pilates teacher or taking your Pilates practice to the next level? The Pukka Pilates & Physical Therapy Teacher Training Program focuses on both a classical tradition of the Pilates method and a rehabilitation focus to teach you how to work with special populations and accommodate physical limitations. Bridge programs are also available for certified teachers.
The Pukka Teacher Training Program is a comprehensive 500-hour curriculum comprised of workshops covering all the apparatus including the mat, reformer, chair, barrels, cadillac, springboard and magic circle broken down into beginner, intermediate & advanced systems. Additional workshops cover anatomy, history and principles, precautions and contraindications for special populations, tactile cuing, professionalism and marketing. The apprentice will be provided with hands-on instruction and work side-by-side with Pukka's Classically trained teachers while completing their observation, self-practice and apprentice teaching hours. In addition, Owner & Physical Therapist, Sharon Manzuk, will provide instruction and guidance on how to work with special populations and in rehabilitation settings.
For more information on the next Pilates Teacher Training Program, contact us at: 858.271.8800 or info@pukkapilatesandpt.com